About
A little about Hanover Clothing Company...
Shortly after the Blumenthal family settled in Hanover, Pennsylvania in the late 1800's, nineteen year old Harry opened the doors to Hanover Clothing Company. Originally, Harry sold men's heavy-duty working clothes for factory and farm. However, over the years and through three generations of the same family, Hanover Clothing emerged as a top-notch men's fashion store...dressing the modern day man of any shape or size, for success. Today, Hanover Clothing Company is offering the same fine menswear through the Internet at great savings. Owned and operated by David Dubs since Jan. 2000. The same quality service is there to help select the right color combinations. Hanover Clothing has long been the center for men's clothing, not only because of its location but because of the family tradition of service, quality and attention to detail for over 70 years.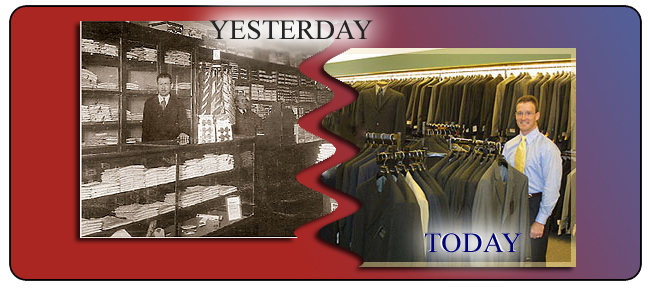 In 2015 we moved directly accross the street at 43 Carlisle St and in 2019 we moved to our new location at 217 Frederick St.!

Hanover Clothing Company
Located at 217 Frederick St. Hanover, PA 17331
For your convenience our experienced staff is here to serve you in person from open Monday, Wednesday and Friday 10 -8 and Tuesday, Thursday 10 - 6, Saturday 10 - 5, Eastern Standard Time....just call: 717-632-3323.
Email Us at hancloth@hanoverclothing.com with any questions or concerns.